Have you heard of the January Cure? Each year, Apartment Therapy posts a simple cleaning out process called the January Cure. I've participated before, but have not tracked my results. I think I need to push this back to March since I found out during the middle of January that I'll be moving with a 30-day notice.

The January Cure 2017
Day 1: Clear a Single Drawer
I opted to clean out my kitchen drawer. In my tiny little apartment I owned two cheese knifes. I've never used either. I got rid of one.
Day 2: Make a list of projects
✓ Hang a piece of art over bar cart
✓ Find a new wall for piece of art
✓ Take the jar of change to the bank
✓ Switch Flour and Sugar canisters
✓ Take boxes to Goodwill
✓ Buy smaller dish rack
✓ Find new pillows for our bed
Find a frame for 2 5×7 art pieces
✓ Replace Sheets
Day 3: Purge Your Pantry
Our pantry is small, but it could use some cleanup. I had to check expiration dates on the items on the top shelf. Also, organizing the shelves by "baking" and "spices" and "vegetables" would be much easier to find items.
Day 4: Set Up an Outbox
Done! I already have a box that I started when I was cleaning before Christmas.
Day 5: Buy Flowers. Clean Rugs & Floors
I'm good on the flowers. I'll just have to clean them up in a week again. We do not currently have a vacuum, but I do have it on my list to research the best one for our current storage situation (like we have none).
Day 6: Choose a Project to Complete
I'm not quite the type of person who does meditation, though I do love a good session of yoga. I have already been working on cleaning out what I don't like or need. I've also been trying to better communicate my thought process to my husband by asking him if he's okay with what I bought.
As for my project, all of mine are small. I bought a new print, which has already been hung, but I have to find a new home for the other piece of art. Then I also have two small prints that need frames and I've been toying with the wall gallery idea, but not sure where to put it.
Day 7: Clean One Closet for 30 Minutes
For this one I chose my side of the bedroom closet. Things are all over the place. A piece of art (mentioned in Day 2) is sitting on the floor. I keep a couple pairs of shoes on the floor and have clothes strewed all over.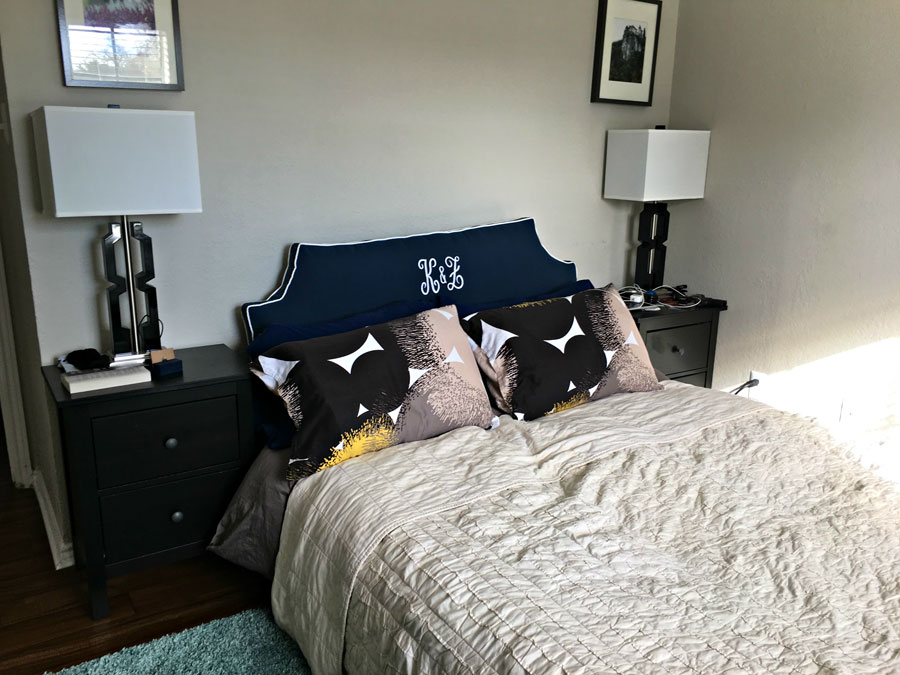 Day 8: Media Fast
I've been trying to promote this blog so much that I'm sure it cuts into my husband's time with me after work. This is an excellent way to get situated with each other. Leave the work at work and have one on one time at home, right?
This exercise couldn't have come at a better time because he has a work trip and he leaves Saturday. He'll be gone a full week.
Day 9: Take time today to go through your linens
During Christmas break, I had already washed all my linens but I didn't check on them. I have two blue sheets from different stores, old pillow cases from a different bed set, blue to match one sheet and a grey duvet from a completely different bed set.
I decided to buy a new sheet set with matching duvet and pillow cases.
Day 10: Clean your kitchen!
I bought a new flour and sugar canisters.
Day 11: Invite a friend
I found it really funny to read this because I already do have a friend visiting that weekend! She is flying in from Milwaukee and I'm planning a great weekend for her.
Day 12: Go through your bathroom storage areas
I found out I was moving on January 18. My coworker gave me a quick couple of boxes to take home. I went through everything under the bathroom sink and taped them up within the boxes. A little bit of packing each day!
Day 13: Complete a Project
I have completed almost everything on my project list from Day 2. The last thing I did was rearrange the photos on my wall. That was all in vain, I guess, since I have to pack it all up!
Day 14: Remove decorative accessories from the room
I don't own a lot of "decorative" accessories other than art hanging on the walls. This was a skip day for me.
Day 15: Give your bedroom a deep clean
The only deep clean my bedroom is getting this weekend is packing clothes. The deep, thorough cleaning will be happening after we pack up! Moving deadline is Feb. 26.
Day 16: You name it!
This assignment is a little lazy on their end – I'm following this because I wanted help and now I have to think of a task myself. Alas, almost all of the artwork has been taken off the walls. There is now an echo in the bedroom because the room is so bare.
Day 17: Clean the Bathroom
Thanks for posting this on a Tuesday! This day is getting pushed until the following week because a trip to Austin and a trip to Seattle got in the way of figuring out life during the middle of the week. And since I have a visitor the first weekend in February, I'd like the bathroom to be extra clean for her.
Day 18: Create a Landing Strip
I do have a bench to put my work bag and keep my shoes underneath. I also have a table for keys and for the dog leash, but those end up getting placed anywhere there is room.
Day 19: Do a Surface Sweep
My husband started school this month, so there has been an abnormal about of paper, pens and digital items strewn across the counters. I've added sweets to the mix since I got some Girl Scout cookies. I haven't been annoyed with the mess too much, but, again, the cleaning will really take place before my friend visits.
Day 20: Empty Your Outbox(es)
I've already delivered my items to Goodwill, but I know I will end up with a few more items while packing. So I've started a "second" box. On the plus side, I did get down to Inbox Zero in my Google account. Everything's coming up Kinsley!
Day 21: Just do something good everyday!
My big daily "good" item is washing the dishes and cleaning the counter. Waking up to dirty dishes makes me stressed when I just want to get ready for work.
Overview
I really wish I wasn't packing to move. While I did complete almost all of my big tasks from the second day, I still feel like I have so much more to accomplish. Life is difficult living out of boxes. It is even more difficult when you have anxiety about living in your current space. I'm glad to be moving, but it was unexpected.
Did you participate in The January Cure 2017? Let me know in the comments below! You can also view my participations in other January Cure years.