Building a home garage gym on a budget requires some creativity and flexibility. Start with the essentials, gradually add equipment over time, and make the most of what you have available. With careful planning and resourcefulness, you can create a functional and budget-friendly gym space in your garage.
Home Garage Gym on a Budget: Define your fitness goals
Creating a home garage gym on a budget is an excellent way to save money while still having a dedicated space for your workouts. Here are some tips to help you set up a budget-friendly garage gym.
Determine what type of exercises or workouts you want to focus on. This will help you prioritize the equipment you need.
Explore free workout resources online, such as fitness apps, YouTube workout channels, or fitness websites that offer a variety of workout routines without the need for expensive equipment.
I have a membership with iFit that I love. It offers a variety of treadmill workouts from walking to running and everything in-between.
Start with the essentials
Invest in a few key pieces of equipment that will provide a solid foundation for your workouts. The first purchase for our home gym was a treadmill.
Some essential items include:



Adjustable dumbbells

Adjustable dumbbells allow you to vary the weight according to your needs, eliminating the need for a full set of individual dumbbells.




Resistance bands

These are affordable and versatile. They can be used for various exercises and provide resistance similar to weights.




Jump rope

A jump rope is an excellent cardiovascular exercise tool that is compact and inexpensive.
Look for used equipment
Check online marketplaces, local classified ads, or garage sales for used fitness equipment. You can often find great deals on items like barbells, weight plates, benches, and cardio machines.
We found our rowing machine at Costco at a much cheaper price than buying it online or at other stores. We've also sold items on Facebook marketplace when we didn't use them any longer.
DIY solutions
Get creative and consider building your own equipment using inexpensive materials. For example, you can create a plyometric box using sturdy plywood, or use old car tires as weights for flipping or hitting with a sledgehammer.
Consider space-saving options
Opt for equipment that doesn't take up too much space in your garage. Foldable or adjustable equipment, like foldable weight benches or wall-mounted pull-up bars, can help maximize your available space.
We've planned for one half of the garage to become our home gym. The other half has ended up becoming a project space, but (once that is cleaned up) my car can easily fit on the other side.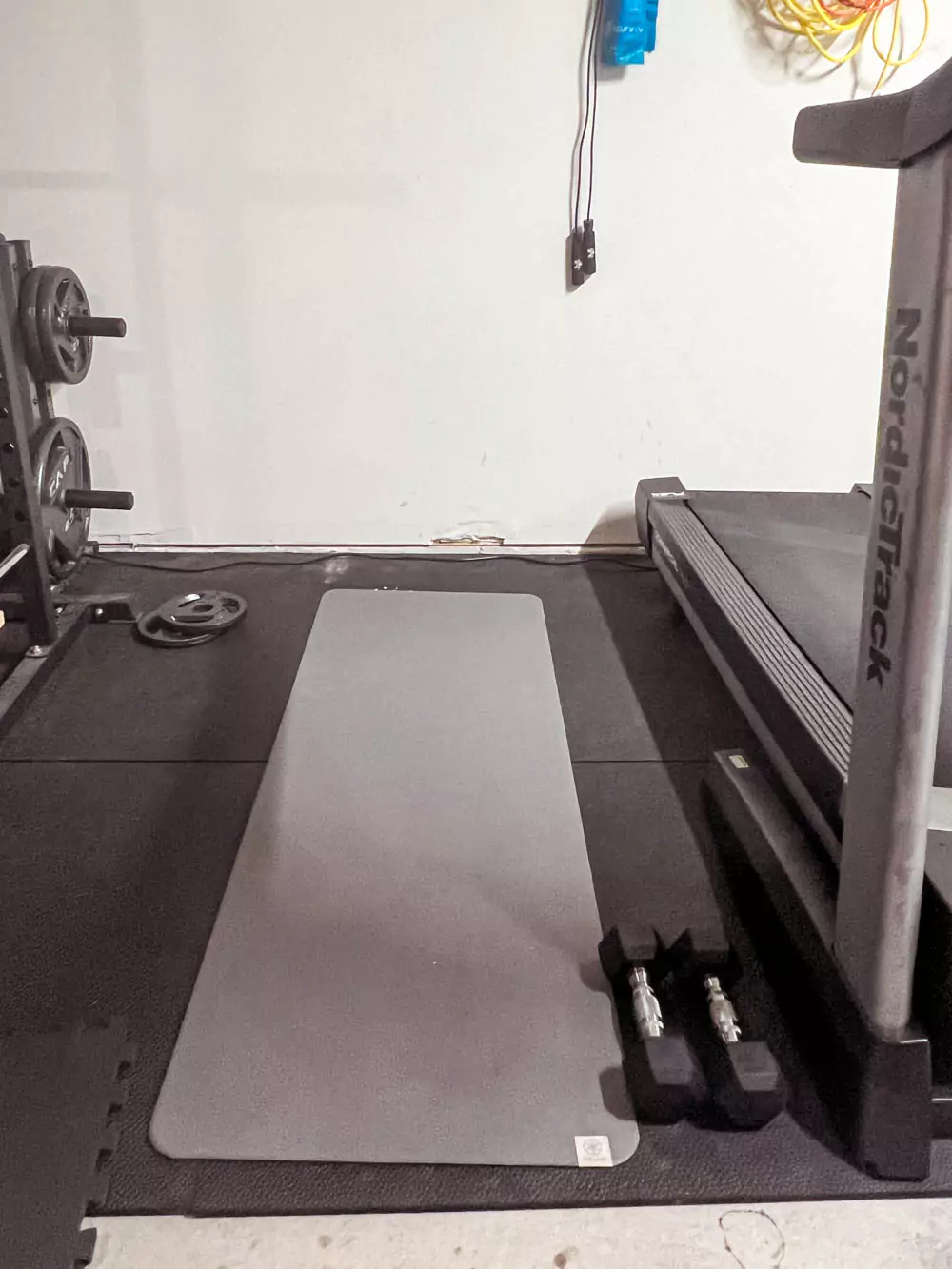 Use the garage floor
The garage floor can serve as a suitable surface for exercises like bodyweight workouts, yoga, or stretching. However, you may want to consider investing in rubber floor mats or interlocking foam tiles for added comfort and protection.
Bodyweight exercises require little to no equipment and can provide a great workout. Incorporate exercises like push-ups, squats, lunges, planks, and burpees into your routine.
Prioritize safety
While on a budget, safety should still be a priority. Make sure you have adequate lighting, ventilation, and clear space to move around safely. Additionally, if you're using heavy weights, consider using a squat rack or power rack to ensure proper form and safety.
Ensure proper ventilation in your garage gym by opening windows or using fans to prevent overheating.
Remember, the most important aspect of a home gym is consistency and dedication to your fitness routine. With a little creativity and resourcefulness, you can create an effective workout space in your garage without breaking the bank.
Shop Our Home Gym
Do you have a garage gym? It is a full gym garage or half? Let us know in the comments below – we would love to hear from you! Thanks so much for stopping by!
Cheers,
Katie